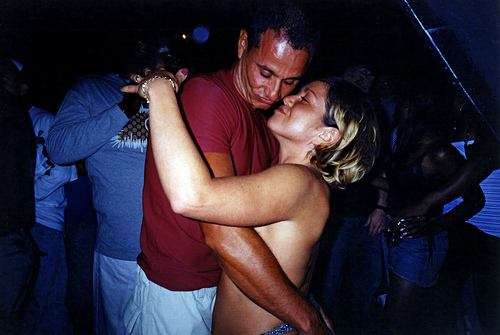 03 Dancing Topless, originally uploaded by wmahl.
Dancing Topless
It's not fair but they didnt make her put her top back on. So she continued dancing with him.
Emm meets John at Frontstreet. It was instant chemestry. They danced for a while (short while) till Emm wanted to go to the car for some air. When we got close she ran ahead and jumped on the back of our car and opened her legs.
With several restraunts and clubs all sharing the same parking lot there is seldom time for a private moment, let alone several private moments. She never even looked around once to see if people were there. ….and yes, there was a number of people there.
John was right behind her and when he saw what she was doing he dove right in between her legs.
A car with 4 or 5 guys stopped to watch so I told John to move over for a second so they could get a better look. After a couple seconds he resumed what he was doing.
After about 5 minuets there was just too many people walking right next to us that I told them to move to the back seat just in case some one reported us.
He had a SUV which was bigger so the jumped in the back seat an I got in the front so I could get pictures.
In no time at all she had his cock in her mouth and was sucking him off nice and slow. Like an artist doing a painting.
At one point she thought he was ready to cum so she opened wide to let it make a bit of a mess but he was not ready. She went back to work till he was ready and let him shoot his load across her face and chest. Then she rubbed it all over her chest. That was very erotic indeed.
Once she had squeezed out the last drop of cum from his cock she started sucking and licking till he was completely clean.
Once clean, he put his cock away and she got dressed and we returned to the dance floor.
Now she has a new friend. John.